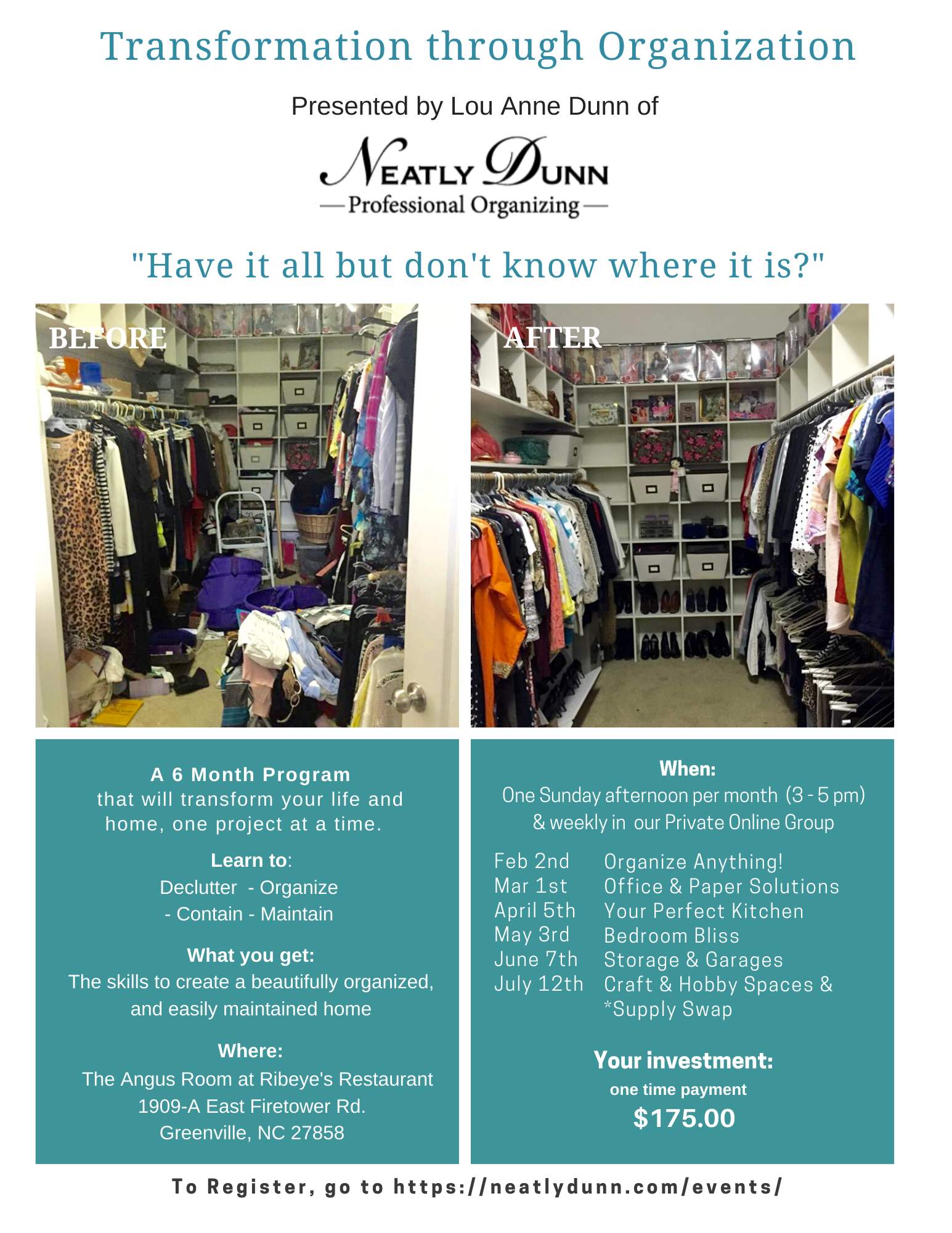 During my 6-month Transformation Through Organization workshops series, you will learn the same 9 principles of organizing that I use with my clients to transform their homes into clutter free, efficiently run, beautifully designed spaces they are proud to show off.
By applying these 9 principles you will:
Find space you never knew you had!
Stop wasting time searching for misplaced items. (Wouldn't it feel great if you didn't have to search for keys, and shoes and overdue library books?) Imagine!
Stop wasting money replacing items you know you have but can't find. (How amazing would it feel to know exactly where something is when you need it!
Enjoy your home again. How great would it be to host a book club, bunco, or supper club at your house? Or maybe you want to be the host for next year's Christmas party or a birthday party for that someone special?
Learn to organize your home one project at a time while maintaining your sanity!
What is Transformation Through Organization (TTO)
I'm glad you asked.
It's a six-month program for people who are ready to regain the time, money, and frustration that is lost to disorganization.
I will teach you my methodology for using the nine principles of organization.
You will learn how to de-clutter, organize, contain, and maintain your home. This is the same process I use with my organizing clients.
How does TTO work?
In the first session you will learn the nine principles of organization
Like Items Together
Friends, Family, & Acquaintance
Pareto Principle
Store It where you use it
ABC Zones
One In, One Out Rule
Hula Hoop Method
Storage Alternatives
Applied Sentiment
If you are curious as to what all of this means, make sure you join us.
*Everyone loves a Bonus! Not only will I be there to teach you in person once a month, I will also offer guidance and additional material between classes in our Private Facebook group.
$175
(purchase 6-month series)
       $40
(per individual class)
What do you get?
Six live workshops with Q&A sessions taught in person by yours truly once a month at Ribeye's Steak House in Greenville.
You also get membership into our private Facebook community where you have access to me and other TTO members. In the community you can share your challenges and get feedback and solutions. The feedback and guidance throughout the course will help keep you on task and making progress.
Who should take this course?
This course is for women or men who are ready to simplify their lives.
If you have it all but can't find any of it when you need it, been late for work because you couldn't find your keys, dug to the bottom of the closet, bag, box, etc. to find anything all in a frantic frenzy
Thought that hiding is the same as organizing
Bought into the theory that you are more creative in a chaotic work environment
If you've ever been embarrassed by your home
If you've ever said to yourself "I think I should just burn it down and start over".
Register Now
$175
(purchase 6-month series)
       $40
(per individual class)
Is it worth it? (Don't take my word for it)
You could pay my hourly rate, or you could invest a fraction of the cost for this course and still learn the skills I teach my clients in one-on-one sessions. But like anything, you will need to invest more than money. You will have to do the work. Come ready to learn, take action, follow my advice, and make real changes and you can have an organized life!
See what other course participants had to say…
"There is a lot to be said about a place for everything, and everything in its place. I feel a lot better about myself when my space is neat and organized. Lou Anne Dunn, of Neatly Dunn Professional Organizing has given me wonderful tips on how to organize the problem areas of my home. I highly recommend her course." – L. Clark, Winterville, NC
"Transformation Through Organization has given me the tools and "Rules" that I needed to finally get organized.  It has opened my eyes to the truly unlimited options available to help organize our stuff.  I had no idea.  The creativity is awe inspiring! That alone is invaluable to me.  But what I'm most grateful for is the change in the way I think about and live my life.  The words simplicity and flow come to mind.  Lou Anne is all about making life easier and she has been gifted with an ability to create beauty and tranquility from absolute chaos.  She has it down to a science.  It's like watching Matt Damon solving equations in Good Will Hunting.  She's AMAZING!! –  P. Marr, Greenville, NC
When and how much?
The next course begins February 2, 2020 at 3 PM at Ribeye's Steak House on Fire Tower Road in Greenville, NC. We will meet for two hours (3-5pm) Usually it's the first Sunday of every month,  except for our last meeting in July. See the dates here:
February 2, March 1, April 5, May 3, June 7, & July 12
Your total investment is $175 if you pay in full for the 6 month course OR, you can attend individual classes for $40 each.
Your investment includes:
(6) 2 Hour in-person sessions one Sunday a month
Membership to our Private Facebook Group for access to additional support and extras from me and other TTO members.
How do I sign up?
Pick your payment option to register, then look for a welcome email from me and an invitation to join our Private Facebook group.
Welcome to Transformation Through Organization!
I can't wait to help you transform your home into the place you've always dreamed of!
$175
(purchase 6-month series)
       $40
(per individual class)